February 17th, 2023
Frozen Fire Films: How to Make a YouTube Video: Tips from the Pros
In decades past, distributing video content was challenging. A business would have to purchase thousands of dollars of airtime, and even then, you would only have the eyeballs from those who were watching that specific program at that particular time.
Enter YouTube: an online platform where ANYONE can upload a video and host it on a profile to be shared and viewed later. This drastic shift in video distribution came alongside a revolution in consumer cinematic technologies—a transition from film to the digital era. Now, nearly 20 years since YouTube's inception, digital cameras are the norm, and anyone with the new iPhone can shoot great-looking videos.
Even with the accessibility offered by consumer-grade equipment, creating a YouTube video that drives organic viewership is difficult. Frozen Fire has studied for years what makes the YouTube algorithm tick. Today, we are going to share tips, tricks and hacks to increase viewership and a step-by-step guide on how to make a YouTube video.
How to Make a YouTube Video: Step-by-Step Guide
 Before we get to tips, tricks and hacks for increasing YouTube viewership, we need to discuss how to make a YouTube video in the first place.
Understand your goals
YouTube is a powerful tool available to creators and businesses. Before you even put pen to paper on any video ideas, know what you are trying to achieve. Frozen Fire recommends creating a goal sheet that outlines where you would like to be in the short-term, mid-term and long-term.
For example, say you want to be an influencer in consumer electronics, like Linus Tech Tips. You know your long-term goal is to have a large subscriber base and receive 1 million plus views per month. Now, that goal may be ten years in the future, but knowing where you want to be is essential because it allows you to outline milestones you can hit in the short and medium term.
Another example is that you are a business looking to create content that informs and educates a small base of leads. Your long-term goal is to become the go-to resource for anyone learning about your industry.
Develop a content strategy
Now that you have a simple game plan start filling it in with a realistic content strategy you can perform consistently. If you are a solo creator looking to develop a new brand, start small and scale. If you have a business looking to position itself as a thought leader in an industry, consider working with Frozen Fire to ensure your marketing budget is well-spent.
Knowing how to make a YouTube video means understanding how YouTube works as a platform. No matter your end goal, the platform itself stays consistent. When creating video topics, always think from the platform's perspective. YouTube is very similar to Google, which makes sense as Google owns YouTube.
Google and YouTube are both search engines. They provide a user means to find solutions to a question through the search bar. When developing a content strategy, consider issues or questions people may have concerning your niche.
Going back to the example of the consumer electronics influencer. If a new piece of technology is coming out soon, you can assume there will be users researching that new piece of technology. Thus, you should create content to help users with this research.
Create a system for ongoing video creation
Now that you know your goal and topics you would like to generate videos around, it is time to create a system for video creation. This means buying audio, video and editing equipment, finding a space to film regularly and staging your area so the frame, lighting and audio are clean and easy to replicate over time.
For upcoming influencers, this may mean buying a professional laptop, quality webcam, microphone and a basic LED ring. Linked are Frozen Fire's recommendations for getting started!
For businesses looking to craft consistent, professional, on-brand content, consider working with Frozen Fire, who can save your business hundreds of hours compared to trying to plan, produce, edit and distribute in-house.
Choosing a location for your videos is essential. Making sure each video has a similar look and feel helps create trust with the audience and is why many YouTubers shoot every video in the same space.
Choose somewhere with consistent lighting and audio for your ongoing video content. If you are using a window to help light your shot, try and shoot around the same time each day. If you are considering your home or office as a shooting space, be sure there are no surprises regarding audio, such as a nearby construction zone.
After you shoot your first video, you must have a process for editing, also known as post-production. Software like Adobe Premiere is the industry standard for post-production and a powerful tool.
If you are an upcoming influencer, learning the basics of Premiere will be vital as you will likely not have the budget to hire an editor. As you progress, your editing skills will improve, and you may eventually get to a point where you can hire an editor.
For businesses, hiring an editor is a must. This will allow you to hit the ground running on your content and ensure no missteps or off-brand content.
Create/Find Your YouTube Channel and Upload a Video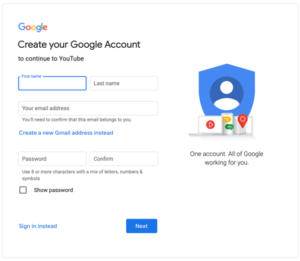 Once you have the finished video, great job! You are nearly an official YouTuber. If you have a Gmail account, you already have a YouTube channel! Just log in to your Google account and navigate to YouTube.
Consider creating a new Google account tied to a business email if you are making a branded channel. When you go to YouTube and are not logged into an account, there will be a sign-in button at the top right. Click on that and then select 'Create Account.' From there, fill out this form, and you will be set with a branded YouTube channel!
Are you looking to learn more about creating an excellent YouTube channel? Click this link!
Once you have a branded YouTube channel, you will want to navigate to the YouTube homepage and log in. Once logged in, find this button on the top right of the homepage. From the drop-down menu, select 'Upload a Video.' This opens the YouTube Creator Studio and starts a new video upload form for you!
Next, drag and drop the video file or press 'Select Files' to look for the file you want to upload. Read more about YouTube's recommended file settings here.
Pro-tip: If you add a video in a vertical format under 60 seconds in run time, YouTube will automatically add the video to the YouTube Shorts section of the platform rather than on your main channel feed.
Fill in the Video Information
After your video is uploaded, you will be given a window with four steps to complete in order – 'Details – Video Elements – Checks – Visibility.' These sections are important, but the first will require the most time, depending on all the functionalities you would like to implement, such as end cards and playlist organization.
Details: This is the bulk of your work on this step. Here, you will decide on a title, description, thumbnail and tags. We will deep dive into Frozen Fire's recommendations soon on how to create the best titles and thumbnails and how to utilize tags and hashtags in a way that makes a difference.
Overall, fill all four sections out to the best of your ability. The more you fill out, the better! YouTube rewards channels that utilize its tools, such as subtitles and tags.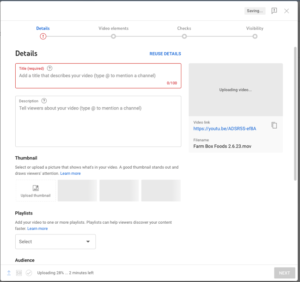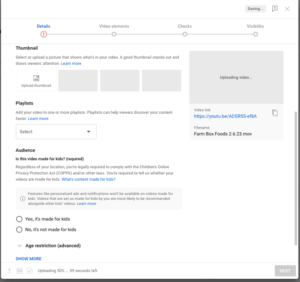 In the last section of this window, 'Visibility,' you will have many options on how you prefer to distribute this video. You can set a premiere date, so your followers are notified when the video is about to release, you can set it to private, so only those with a link to the video can view it, or you can set it to public as it lives on your YouTube channel for the world to see.
Tips and Tricks
Over the years, Frozen Fire has developed a keen awareness of what does well on YouTube. By does well, we mean crafting videos and collateral that helps push the video through YouTube's algorithm to a new audience.
Tip #1. Track Everything
As you upload videos, it is essential to look back at YouTube's analytics section in the Creator Studio. This data will inform you what topics resonated with your audience, the ideal video run time and even when the best time to post a video for your audience is.
Tip #2. Research Competitors
There are bound to be others in your space competing for your audience's limited attention. Research the most successful channels and understand what makes them successful. Don't imitate them but take the lessons they have to offer and make them your own.
Tip #3. Be Consistent
YouTube values consistency over anything. Over time, your catalog will build, and YouTube's algorithm will adapt to best serve your videos to the right audience. When creating content for YouTube, stick to a schedule you can realistically handle.
Tip #4. Don't Forget the Thumbnail!
YouTube's algorithm takes two pieces of analytics into account when deciding how much to show your videos to a new audience: clicks and watch time. To perform better on your clicks, dialing in your thumbnails is a must. Frozen Fire found that the best thumbnails are those with a person in them, large text in the thumbnail itself to tease the video's content, and a bright and colorful graphic.
Tip #5. Use Hashtags and Tags, but Sparingly
When uploading your video, under the 'Details' window, you will find a section for tags. These are separate from Hashtags and are mainly used to assist with video relevancy when a user searches for content on your chosen subject. Frozen Fire recommends choosing 5-10 tags that are as relevant as possible to that specific video's content.
Hashtags on YouTube work very similarly to other social media platforms. A user can search for a specific hashtag, and all the content made with that tag populates in the search results. Frozen Fire recommends choosing 2-3 very specific hashtags and placing them in your description. However, if you are posting a short, use the #short in the title, as it helps the video's organic reach.
You now know how to make a YouTube video! Whether you are a new creator or a business looking to position itself as an industry leader, YouTube has a lot to offer. By following these tips and tricks, you will be well-positioned to generate an audience to achieve your goals.
Need help? Reach out to the experts at Frozen Fire.